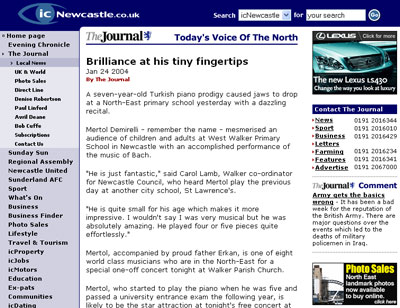 Brilliance at his tiny fingertips Jan 24 2004
By The Journal
A seven-year-old Turkish piano prodigy caused jaws to drop at a North-East primary school yesterday with a dazzling recital.
Mertol Demirelli - remember the name - mesmerised an audience of children and adults at West Walker Primary School in Newcastle with an accomplished performance of the music of Bach.
"He is just fantastic," said Carol Lamb, Walker co-ordinator for Newcastle Council, who heard Mertol play the previous day at another city school, St Lawrence's.
"He is quite small for his age which makes it more impressive. I wouldn't say I was very musical but he was absolutely amazing. He played four or five pieces quite effortlessly."
Mertol, accompanied by proud father Erkan, is one of eight world class musicians who are in the North-East for a special one-off concert tonight at Walker Parish Church.
Mertol, who started to play the piano when he was five and passed a university entrance exam the following year, is likely to be the star attraction at tonight's free concert at 7pm.
Performers also include American Michael Barimo, a world champion whistler who has performed at New York's Carnegie Hall.
The musicians visit the region as the result of a friendship agreement between Newcastle and its "sister city", Little Rock, Arkansas.
They are all winners of the prestigious annual IBLA Music Foundation competition in Ragusa, Sicily, another "sister city" of Little Rock.
The concert was organised by Walker councillor John Stokell-Walker who said: "This is a marvellous opportunity for residents of Newcastle to see world class performers and enjoy a varied musical programme."
He hoped the school workshops would inspire the city's young musicians to develop their talents further.

back to top