Upcoming Events
2004
January 21-22-23-24
IBLA Grand Prize winners perform in New Castle upon Tyne, England
January 29
IBLA Grand Prize winners perform at St. Mary's University in San Antonio, Texas
February 1
IBLA Grand Prize winners perform at Queen's University, Kingston, Canada
February 2
IBLA Grand Prize winners perform at McGill University, Montreal, Canada
February 2-3-5-6
at 6:00 pm
IBLA Grand Prize winners perform at New York University Casa Italiana Zerilli Marimo', 24 West 12th Street in New York City
February 4
at 1:30 pm
IBLA Grand Prize winners perform at
the Loyola School in New York City
February 4
at 6:30 pm
IBLA Grand Prize winners perform at Carnegie Recital Hall 57th Street at Seventh Avenue in New York City
February 5-6-7
IBLA Grand Prize winners perform in Little Rock, Arkansas
March 5
IBLA Young Pianists perform at New York University Casa Italiana Zerilli Marimo', 24 West 12th Street in New York City
March 20
IBLA Grand Prize winners perform in Catania, Italy for the Lyceum Music Association
March 21
IBLA Grand Prize winners perform in Ragusa at the SS. Salvatore Church for the Amici della Musica
June 4
IBLA Young Pianists perform at New York University Casa Italiana Zerilli Marimo', 24 West 12th Street in New York City
June 28-July 11
IBLA Competition will take place in Sicily
July 6
IBLA Grand Prize winners perform in Villa Medici in Roma
August 28-Sept. 5
IBLA Award at the Oslo International Piano Competition, Norway
For more information contact the IBLA office at iblanyc@aol.com or 212 387 0111.
Piano Competition / Concorso Pianistico
"Bellini" Vocal Competition / Concorso di Canto "Bellini"
Competition for Composers / Concorso per Compositori
Strings Competition / Concorso per Archi
Winds Competition / Concorso per Fiati
Marimba Competition / Concorso per Marimba
Percussions Competition / Concorso Strumenti a Percussione
THE 2004 IBLA GRAND PRIZE
International Music Competitions and Festival for


Pianists • Singers • Composers • Instrumentalists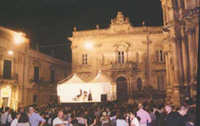 June 28 to July 11, 2004
Ragusa-Ibla, Sicily
The IBLA Foundation in New York City organizes an annual music competition for pianists, singers, instrumentalists and composers which takes place during the last week of June and the first week of July in Ragusa Ibla, Italy. Winners are presented in such venues as Lincoln Center Alice Tully Hall and Carnegie Hall in New York, the Tokyo Opera City Hall, the Tchaikovsky Bolshoi Hall in Moscow as well as other prestigious venues in Canada, Europe, Russia and the USA.
La Fondazione IBLA a New York City organizza un concorso per pianisti, cantanti, strumentisti e compositori che si tiene ogni estate durante l'ultima settimana di Giugno e la prima settimana di Luglio a Ragusa Ibla in Sicilia. I vincitori vengono presentati al Lincoln Center o Carnegie Hall di New York, alla Tokyo Opera City Hall, alla Tchaikovsky Bolshoi Hall di Mosca oltre ad altre prestigiose Università in Canada, Europa, Russia e USA.
presented by
IBLA FOUNDATION
Board of Directors
Baroness Mariuccia Zerilli Marimo', New York Chairwoman
Lady Dewi Sukarno, Founding Chair and Tokyo Chairwoman
Prof. Carla Giudici, New York Vice Chairwoman & International Jury Co-Chair
Maestro Marcello Abbado, International Jury Chair
Dr. Cettina Spampinato, Vice-Chairwoman
Mrs. Joanna Crispi Bellacosa, Esq., Vice-Chairwoman
Mr. Gregory Nuber, Director
Mr. Michael Yasenak, Director
Ms. Chie Sato Roden, Director
Mrs. Donatella Moltisanti, Director
Mr. Sherman Banks, IBLA Little Rock Director
Dr. Salvatore Moltisanti, President
IBLA International Honorary Board & Donors
Jocelyne Wildenstein, Honorary Chairwoman
Hon. Winthrop Paul Rockefeller, IBLA Little Rock Honorary Chairman
Mr. Stephen Acunto, Honorary Vice - Chairman
His Excellency Cardinal Renato M. Martino
Mr. Luciano & Giancarla Berti
Dame Livia Sylva
Ms. Francine LeFrack
Baroness Gabrielle Langendorff
Ms. Margo Langenberg
Ms. Yung Hee Kim
Mrs. Katherine Kirbi
Dame Arlene Kieta
Mrs. Carmelo Giuffré
Mrs. Nancy Majteles
Mrs. Rebecca Madsen
His Excellency Sergio Vento, Ambassador of Italy at the UN
His Excellency Giorgio Radicati, Ambassador of Italy to the Czech Republic
Hon. Dr. Tonino Solarino, Mayor of the City of Ragusa
Hon. Ing. Giovanni Franco Antoci, President, the Province Administration of Ragusa
Dr. Girolamo Carpentieri, President, The Tourist Bureau of Ragusa

in cooperation with
E. P. T. A. Associates of New York
Città di Ragusa
Provincia Regionale di Ragusa & AAPIT
Amici della Musica RG
The City of Little Rock
The City of New Castle upon Tyne
McGill University in Montreal, Canada
Queen's University in Kingston, Canada
YAMAHA

Click here for more photos.
"The sunbaked island of Sicily, the largest and historically richest in the Mediterranean, is the scene of the annual IBLA GRAND PRIZE, a piano competition held in a hall buried among the clusters of 17th and 18th century stone buildings that crowd the little threads of streets. The rocky town of only 80,000 lies just a few miles from where Ionian and Mediterranean meet at Sicily's southern most tip. Hearing piano-playing in this kind of setting is amazing. It is like the opening of an ornate and ancient casket only to find it stocked with glittering gems."

-Gordon Sparber, Journalist, USA