2014 IBLA-VIRGINIA AWARDS
IBLA GRAND PRIZE WINNERS PERFORM AT RADFORD UNIVERSITY
VIRGINIA
May 1, 2014
Thursday, 6:00 pm
Performance Hall, Covington Center, 800 Main Street, Radford, Virginia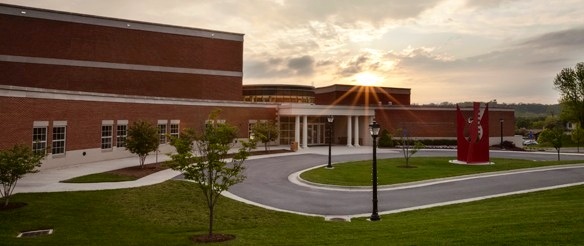 PERFORMER BIOGRAPHIES AND PICTURES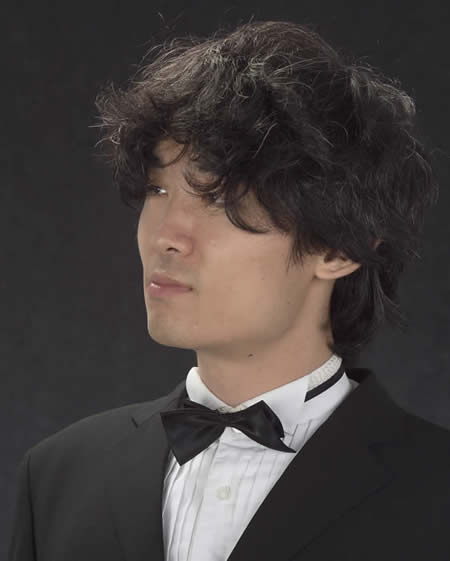 CONG CONG CHAI, pianist
IBLA GRAND PRIZE AWARD recipient Congcong Chai is the Grand Prize winner of Metropolitan International Piano Competition (New York 2014), the 1st prize winner of Symphony in the Valley Young Artists Concerto Competition (Grand Junction 2013), the 1st prize winner of DCS International Piano Competition (Dallas, 2013), He is also the prize winner of the 53rd Sorantin International Competition for Piano and Strings, the Philharmonia Collegiate Concerto Competition and HSO Young Artist Competition. He has performed in New York, Vienna, Kansas City, Dallas, Hong Kong, Macau, Shang Hai and Shenzhen. His performances have included varied repertoire for solo piano, chamber, and piano concertos. He enjoys an association with the conductors Richard McKay, Robert Ward, Benjamin Cline and Yondani Butt, performed as a soloist with Dallas Chamber Symphony, Vienna International Orchestra, Hays Symphony Orchestra, Guang Dian Symphony Orchestra and Colorado Symphony in the Valley. The festivals he attended including PianoTexas International Academy & Festival(2012), Concerto Fest Vienna(2012) and International Keyboard Institute & Festival(2013). Born in Xian, China, Chai started learning piano with his mother at a young age. After graduating from Hong Kong Academy for Performing Arts, study with Prof. Eleanor Wong, he is currently in his third year of the DMA program at University of Kansas with Dr. Jack Winerock. k.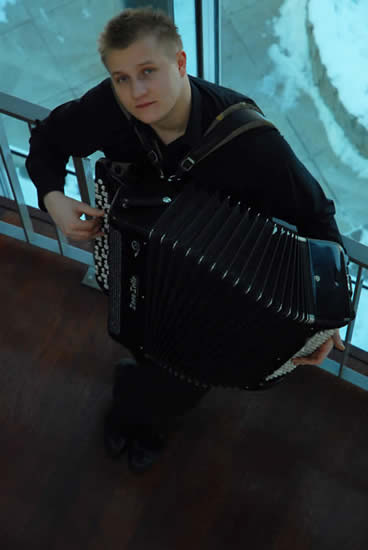 MICHAL GAJDA, accordionist
IBLA GRAND PRIZE AWARD recipient Michal Gajda graduated summa cum laude from Poznan Academy of Music in 2012 where he studied accordion under supervision of Jerzy Kaszuba. He participated in numerous master classes working with W. L. Puchnowski, K. Baran, B. Dowlasz, Y. Shishkin, A. Dmitriev, V. Dmitriev, P. Fenyuk, M. Varynen. He has taken part in a lot of competitions and festivals, winning many prizes and distinctions, including: 1st prize and Grand Prix in the 2nd International Competition in Memory of J. Haydn in Vienna (2012); 1st prize and a title of the Best Accordionist of the 2012 also Grand Prix as a member of ensemble "Trio New Harmony" in All-Polish Accordion Competition in Solec-Zdrój (2012), 1st prize in solo category and 1st prize in ensemble category with "Trio New Harmony" in the 17th International Accordion Competition in Sanok (2012), 2nd prize in the International Accordion Competition Vilnius (2011), 3rd prize in the International Accordion Competition Vamo in Vienna (2011), 3rd prize in the 47th International Accordion Competition in Klingenthal (2010), 1st prize in the 16th International Accordion Competition in Sanok (2010), 2nd prize in the 19th International Accordion Competition in Przemyl (2010), 1st prize and Grand Prix in the Accordion Competition "Harmonia Viva" in Warsaw (2009), 3rd prize in the International Accordion Competition in Poprad (2007), 3rd prize in the International Accordion Competition in Castelfidardo (2002), 2nd prize in the International Accordion Competition in Bratislava (2002), 2nd prize in the 5th International Accordion Competition in Dresden (2000). His musical activity extends from solo accordion works as well as organ music, trough Astor Piazzolla tango nuevo to contemporary musi works. He is taking part in a many various ensembles performing classical and popular music. He is giving concerts as a soloist with symphonic orchesters. He has given recitals as soloist and chamber musician (Trio New Harmony, New Poznan Accordion Duo, Duo ClassZmer) in Poland, Germany, Austria, Lithuania, Slovakia, Netherlands, United Kingdom, Italy, Sicilia. In 2011 he won a scholarship of Provincial Marshal of ?ódz´. He is also a triple holder of a scholarship of the Minister of Culture and National Legacy (2002, 2005, 2011) and winner of Scholarship Program of Minister of Culture and National Legacy "M?oda Polska"/ "Young Poland" (2012). In 2012 Micha? Gajda represented Poznan Academy of Music in a "Festiwal Sztuki M?odych"/ "Students Art Festival". He is currently working with Poznan New Theatre as music manager. Since October 2013 he is studying PhD programme at Poznan Academy of Music.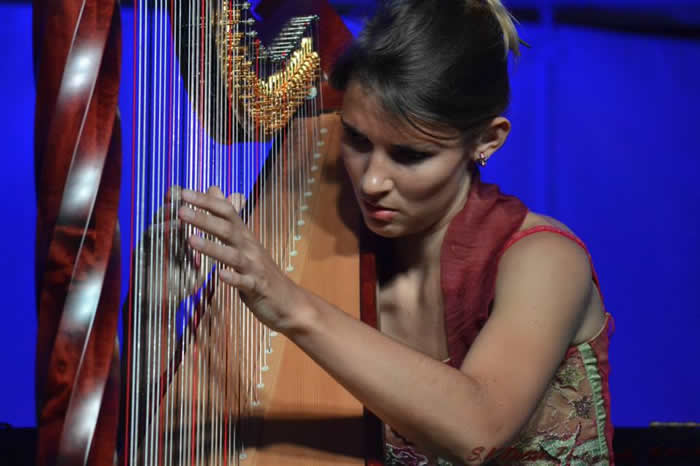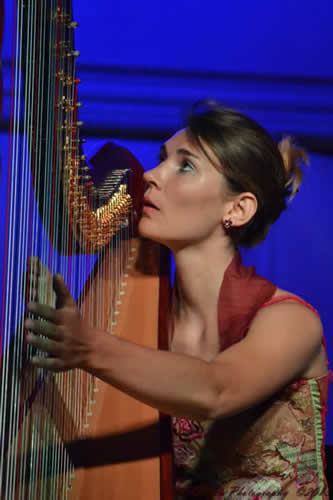 CLAIRE ISELIN, harpist
IBLA GRAND PRIZE AWARD recipient Claire Iselin, born in Mulhouse, France, started learning the harp at age 6 with her mother, along with studies for 11 years on violin, flute and timpani. In 2005, Claire moved to London (UK) to study with Professor Gabriella Dall'Olio at Trinity Laban Conservatoire of Music and Dance. She graduated with a BMus (hons) in 2010 and a MMus in Performance in 2012. While a student at Trinity Laban, she participated in masterclasses with renowned world harpists such as: Letizia Belmondo, Marie-Pierre Langlamet, Andrew Lawrence King, Xavier de Maistre, Marielle Nordmann, Fabrice Pierre and mentored by Suzy Kawalec of the Royal Philharmonic Orchestra.
She made her debut at London's landmark church, St Martin's in the Field, in 2009. Highly acclaimed by both public and critics, she has performed solo recitals, chamber concerts, as well as performing as soloist with orchestras in Europe, China, Canada and other locations. In the UK, she has performed with the Kantanti Chamber Orchestra, Sidcup Symphony Orchestra and the Billroth Ensemble with music by Debussy, Ravel and Ginastera Harp Concerto. In July 2011, she was invited and performed, The Crown of Ariadne for harp with percussions by R. Murray Schafer at the 11th World Harp Congress in Vancouver, Canada. She has also performed along with the Mercury Quartet in Kings Place of London.
Claire has won several awards and prizes such as: IBLA Grand Prize International Music Competition 2013 Outstanding Musician with Marson special mention & Grace M. Susino Award, The City Music Foundation Winner Award 2013, Isabel Bond Gold Medal Competition 2013, for Excellence in Performance and Director's Prize for Achievement. She was awarded the Worshipful Company of Musicians 2012 Silver Medal, winner of the Repertoire Orchestra Concerto Competition. Guest principal harpist to several projects in 2011 for the European Union Youth Orchestra (EUYO). First joint prize in the North London Competition 2009 and the John Marson Prize for an Outstanding and Creative Young Musician in 2008.
She has recently recorded with the Caravaggio Quartet of Basel for the main Classical Swiss Radio, SFR2 Kultur. Currently Claire works as a freelance orchestral player, serving as the principal harpist of The World Orchestra, performing as well with BBCCO, Manning Camerata, South Bank Symphonia, amongst many others.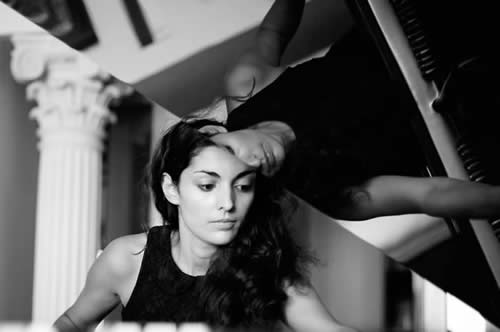 GABI SULTANA, pianist
IBLA GRAND PRIZE AWARD recipient Gabi Sultana who hails from the island of Malta, has graduated from a Post-Masters' Degree in Contemporary Music with the highest distinction, from the Royal Conservatory in Ghent, Belgium, where she also obtained her Masters' Degree with the highest distinction, both under the guidance of Daan Vandewalle. She obtained her Bachelor's Degree in June 2008 from the Royal Conservatory in The Hague, Holland, under the guidance of Marcel Baudet. During her studies in Malta she obtained Diplomas from Trinity College (ATCL),London School of Music (LLCM) and the Licentiate of the Royal Schools of Music,London (LRSM), under the guidance of Fransina Abela Brincat, with whom she studied for 12 years, before proceeding to Holland to further her studies in 2001. She won several local piano competitions and was invited by EPTA (UK) to represent Malta in a concert at the Guildhall School of Music in London in 1999, and at the Festival of Winners Concert at the EPTA Conference 2000 held at the Liszt Academy in Budapest. As the prizewinner of the Bice Mizzi Vassallo Competition,she attended the Lake District Summer Music International Festival in 2001. Gabi was also awarded the first Giorgio Federico Ghedini Bursary in Malta in 2009 and between 2010 – 2012 she was the recipient of a Malta Arts Scholarship. Gabi was also nominated as a finalist for De Linkprijs 2012 in Tilburg, Holland, which is a prize for interpreters of Contemporary music. She attended masterclasses with several renowned professors, including John Clegg (UK), Ruth Gerald (UK), Philip Martin (UK), Nina Kazimirova (Ukraine), Alberto Portugheis (UK), Marina Evseeva (Moscow), Balasz Szokolay (Hungary), Renna Kellaway (UK), Barry Snyder (USA) and Carole Presland (UK). During her studies for her Bachelor's she attended several workshops at theRoyal Conservatory of The Hague, including a two-week workshop with Steve Reich, and has taken part in several concerts, both as a soloist and as a member of the "Ensemble Royaal" and "Modelo 62", with whom she toured Holland twice. Gabi is very involved in chamber music. She has played in various formations of chamber ensembles and has premiered several compositions by fellow students as soloist and in ensemble, including a concerto for two pianos and choir. She also played in Mark Anthony Turnage's opera "Greek" in the "Dag in de Branding Festival 2007" in Holland. In Belgium, she is a founder member of 5° Ensemble together with Daniel Pastene (clarinet) and Kristof Lauwers (electronics). In 2013 she had the honour to work with Spectra Ensemble on a prizewinning chamber-opera by Frank Nuyts – Middle East. She has given several solo recitals in various European countries and was also invited by H.E. The President of Malta to play at the Presidential Palace in March 2011. Her solo programs focus on music composed after 1950 and new works by up-and-coming composers. Apart from performing, Gabi has been teaching piano in Malta, Holland and Belgium for over 10 years. She also conducts workshops for children and adults on Appreciation of Contemporary Music.
Presently, she is based in Ghent, Belgium.